Unify, Identify, Automate
Talent Data
By leveraging AI superpowers, we help Staffing Agencies, HrTech and Large employers to thrive
in a high-frequency labor market.
Join 1,000+ Staffing Agencies, HrTech and Large Employers
Staffing Agencies
+22% revenue
HrTech & HR Vendors
4.2x faster growth
Large employers
+37% talent mobility
Unified API
A suite of AI solutions to enable
leading HR experiences & automations
WITH HRFLOW.AI
WITHOUT HRFLOW.AI
Plug and play
For Large employers
We built HrFlow.ai from the ground up to supercharge your existing
HRIS.
HCM.
Analytics and BI platforms.
ERP.
ATS.
Automate with HrFlow.ai
API centric
For HrTech & HR Vendorsh
Fully integrated APIs designed by world-class engineers to help you build state-of-the art AI Powered
Career site.
ATS.
HR IS.
Job board.
HR Tech.
Get up and running in just a couple of minutes.
Build with HrFlow.ai
PARSING API
SCORING API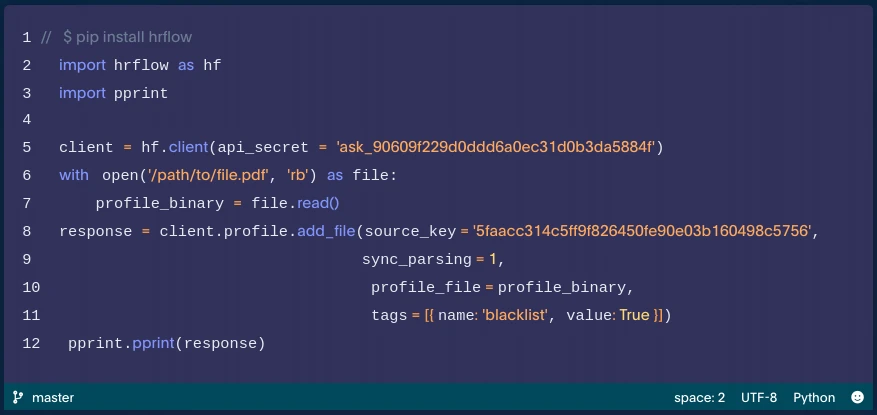 import  hrflow as hf  import  pprint  client = hf.client(api_secret = 'ask_90609f229d0ddd6a0ec31d0b3da5884f')  with  open('/path/to/file.pdf', 'rb') as file:      profile_binary = file.read()  response = client.profile.add_file(source_key = '5faacc314c5ff9f826450fe90e03b160498c5756',                                  sync_parsing = 1,                                  profile_file = profile_binary,                                  tags = [{ name: 'blacklist', value: True }])  pprint.pprint(response)
master
space: 2UTF-8Python
Don't take our word for it

« Using HrFlow.ai, our consultants are not only able to match more candidates with more clients but also uncover hidden talent and job opportunities. HrFlow.ai is the definitive AI solution in the HR space and has without a doubt helped us increase our revenue and relationship with our clients and candidates. »