AI-Powered
HR Data Automation.
Extract, Enrich & Qualify HR Data.
Connect your apps & automate workflows.
Join 1,000+ Staffing Agencies, Job boards and Large Employers
Unified platform
A fully integrated suite of
HR Data processing products
HrFlow.ai is the 1st multi-layer AI powered API that brings intelligence to your HR Data and bridges the gap between all your data Sources and Destinations.
We also help both vendors and corporates to comply with the G.D.P.R, privacy regulations, algorithmic consent constraints and fairness requirements with pre-built features.
WITH HRFLOW.AI
WITHOUT HRFLOW.AI
Plug and play
For HR Operations
We built HrFlow.ai from the ground up to supercharge your existing
HRIS.
HCM.
Analytics and BI platforms.
ERP.
ATS.
Automate with HrFlow.ai
API centric
For Developers
Fully integrated APIs designed by world-class engineers to help you build state-of-the art AI Powered
Career site.
ATS.
HR IS.
Job board.
HR Tech.
Get up and running in just a couple of minutes.
Build with HrFlow.ai
PARSING API
SCORING API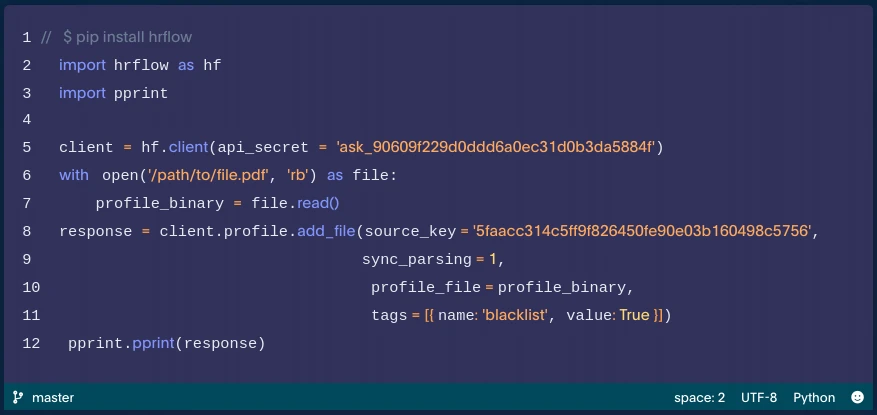 import  hrflow as hf  import  pprint  client = hf.client(api_secret = 'ask_90609f229d0ddd6a0ec31d0b3da5884f')  with  open('/path/to/file.pdf', 'rb') as file:      profile_binary = file.read()  response = client.profile.add_file(source_key = '5faacc314c5ff9f826450fe90e03b160498c5756',                                  sync_parsing = 1,                                  profile_file = profile_binary,                                  tags = [{ name: 'blacklist', value: True }])  pprint.pprint(response)
master
space: 2UTF-8Python
Trusted by HCM companies and forward-thinking HR leaders
2x
more applications on the website
1.5x
more qualified candidates than application forms
« Pluging Hrflow.ai to our ATS Greenhouse drastically simplified application experience for candidates. The profiles we received are also more relevant than before. »